Alternatives to Dentures: Exploring Your Treatment Options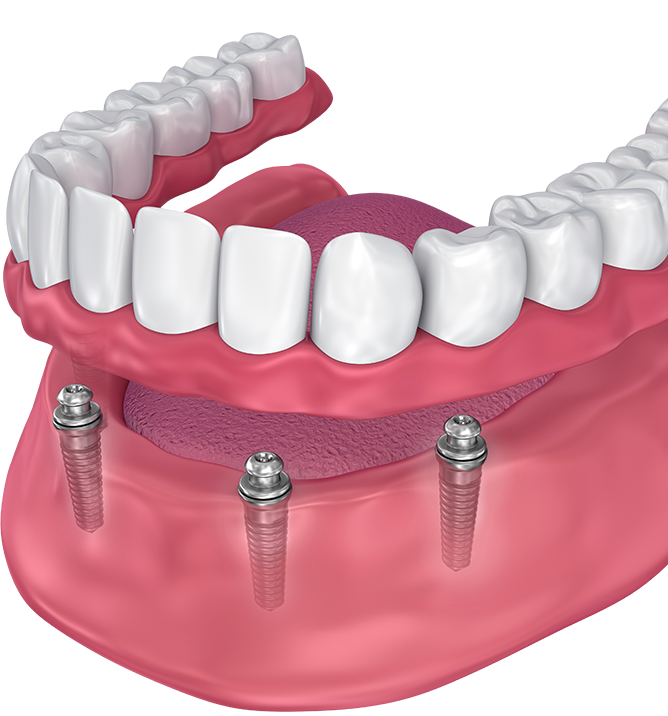 Traditional dentures are an excellent and affordable option for those seeking multiple or full-arch teeth replacement. In fact, before the development of dental implants, dentures were the only solution available.
Today, however, patients can take advantage of several reliable, long-lasting alternatives. Here, our Amarillo, TX doctors explore common alternatives to dentures and explain how patients can achieve a healthy, functional, stable smile that will last for years to come.
About Dental Implants
Before we explore alternatives to dentures, we take a brief look at the science behind dental implants. These small titanium posts are threaded into the jawbone during an oral surgery procedure. Once they have healed in place, they can support a number of restorations, including crowns, bridges, and dentures.
Implants are the first restorative option that can replace the roots of missing teeth instead of just the crowns. This is significant for two reasons:
Bone preservation: When teeth are present, the roots stimulate the nerves in the jaw. This process ensures that the existing bone around the teeth stays dense and healthy. Once tooth loss occurs, the roots no longer provide this stimulation. As a result, the jawbone begins to recede, compromising your overall oral health. Because implants mimic the natural movements of teeth roots, existing bone remains healthy and future bone degradation is hindered.
Conservative treatment: Traditional teeth replacement options frequently rely on the natural adjacent teeth for support. For example, traditional bridges require enamel removal on adjacent teeth before the restoration can be placed. Additionally, partial dentures attach to the adjacent teeth for support. Over time, this can compromise the health of your existing teeth. Dental implants offer a conservative treatment option and do not rely on the neighboring teeth.
Alternatives to Traditional Partial Dentures
Patients wearing traditional partial dentures have a couple of different options for upgrading their smile. For instance, adding a few implants in the jawbone can help add stability and security for a partial denture.
If you are seeking a non-removeable solution, the partial denture can be eliminated and dental implants can complete your smile. Treatment may include single implants as well as implant-supported bridges. After a consultation with your dentist, he or she can discuss your options with you in detail.
Alternatives to Traditional Full Dentures
If you have been wearing conventional dentures for several years, you probably understand the challenges that sometimes accompany these prostheses. Patients seeking a more stable, more permanent solution can choose from a couple different options:
Implant-supported dentures: While traditional dentures rest atop the gums and rely on the underlying bone for support, implant-supported dentures are attached to dental implants. This option eliminates the shifting and slipping common with traditional dentures.
All-on-4® dental implants: Individuals who desire a fixed, non-removeable option can choose All-on-4. This treatment concept restores an entire arch of missing teeth using only four implants. Best of all, patients lacking adequate bone for standard implants are often eligible for All-on-4 treatment.
Contact Texas Denture Clinic and Implant Center Today
If you are ready to upgrade your traditional denture for a more optimal solution, schedule a consultation at the Texas Denture Clinc and Implant Center. Call our office at (806) 803-9219 or contact us online anytime.
Related to This