Implant-Supported Dentures Offer Unparalleled Stability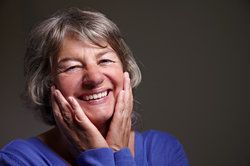 Patients who wear traditional dentures must typically secure them using clasps or dental adhesives. When these temporary support methods fail, your prosthesis can shift out of place and impair speech or damage surrounding teeth. For patients who are looking for an extra level of security and stability when it comes to their restorations, Dr. Clark Damon offers implant-supported dentures at his Amarillo, TX, practice. Unlike traditional restorations, implant-supported dentures can improve both the look and function of your smile by stimulating bone and tissue that have been negatively affected by tooth loss. To learn more about implant-supported dentures and review your candidacy, contact our friendly staff.
Advantages of Implant-Supported Dentures
If you need to replace several missing teeth, Dr. Damon can use dental implants to provide a lifetime of support for complete or partial dentures. Traditional dentures can slip or fall when eating or speaking. Supporting your restorations with dental implants can provide patients with the added confidence of knowing their prosthesis will virtually always remain firmly in place.
Implant-supported dentures not only offer unmatched stability, they also provide benefits to a patient's overall oral health, unlike other restorative treatments. After a person experiences tooth loss, the surround area of the jawbone will no longer receive stimulation and begin to weaken. As time passes, this bone atrophy can lead to further tooth loss and other oral concerns. Dental implants serve the role of natural tooth roots, so they are the only restorative treatment that can prevent bone loss and improve the strength of your jaw. These unparalleled advantages make implant-supported dentures the best restorative treatment available to replace a large number of missing teeth.
Candidates for Implant-Supported Dentures
In order to receive an implant-supported denture, patients must first qualify for dental implant surgery. The strength of your jawbone will be the most important consideration when evaluating your candidacy. During a consultation, Dr. Damon will create advanced 3-D computed tomography (CT) scans with iCAT® technology to carefully examine your jaw and determine if it is healthy enough to support implants. In cases where you do not qualify for traditional implants, there may be several effective alternatives, including the use of mini implants, which are smaller in diameter and require less jawbone density. Other patients may qualify for the All-on-4® method, which involves using only four implants to support a full denture.
The exact number of implants you need to receive will depend on the strength of your jawbone and the type of restoration you intend to support. Before recommending implants, Dr. Damon will first evaluate your overall health. When working with geriatric patients, we take extra consideration to ensure that surgery will not pose any unnecessary health risks.
Learn More about These Advanced Restorations
At Texas Denture Clinic and Implant Center, Dr. Damon works with individual patients to develop restorative treatment plans that will best meet their unique needs. If you or your loved one is interested in implant-supported dentures, contact our office today to learn more.