All-on-4® Dental Implants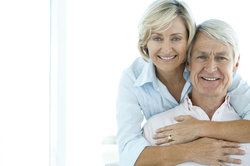 Many patients today who are faced with failing teeth or non treatable periodontal disease, do not want a denture that their parents or grandparents had. Today's patients are looking for a modern method to predictable tooth replacement, with gaining or maintaining the function and expectations of real natural teeth. Now, modern dentistry has a solution - The All On Four Procedure. Dr. Clark Damon offers the All-on-4® dental implant procedure, placed at his Amarillo, TX, office, as a lasting and effective alternative modern form of tooth replacement. Many times with dentures, patients must compromise their function, have eating limitations, and wear adhesive. With a prosthesis that is screwed in or permanent- patients no longer have to live with limitations. Contact our office today to learn more about these advanced restorations.
A Closer Look at All-on-4® Dental Implants
All-on-4® is an innovative method o
f supporting permanent dentures with one procedure in one day. The All-on-4® dental implants procedure is done without the need for a bone graft or sinus lift procedure. Using this specialized technique under IV Sedation, Dr. Damon will remove any teeth needing to be extracted, place four implants, 2 are placed at 30 degree angle. Abutments are placed on the implants and as long as enough torque is placed on each implant, a temporary fixed hybrid bridge is connected to the implants. You will wake up, you will have the temporary fixed hybrid permanently in place. There will be no denture or palate, no adhesive or removing to clean.
Treatment Benefits
Patients who receive All-on-4® dental implants can enjoy many functional and aesthetic benefits, as well as improvements to their overall oral health. Unlike traditional dentures — which can slip or shift out of position — restorations supported by All-on-4® implants will remain permanently secured in place. Not only will this allow you to eat, speak, and smile with confidence, it can also save you the expense of future denture replacement. Additionally, your implant-supported prosthesis will not cover the roof of your mouth or affect the taste of food. One of the most significant benefits of All-on-4® dental implants is an overall improvement to a patient's oral health. After tooth loss, the jawbone will no longer receive the necessary signals that encourage bone regrowth. All-on-4® dental implants can reverse this bone loss by returning stimulation to the jaw.
The Placement Procedure
Before recommending an All-on-4® procedure, we will first evaluate your mandibular and maxillary anatomy, as well as overall health. As an expert in implant dentistry, Dr. Damon use computed tomography (CT) scans to plan out the ideal placement of your implants. This is done at your initial consultation so you can see how and where the implants will be placed. Also, Dr. Damon will discuss the risks and benefits.
Before the surgery, dental impressions will need to be taken, a measurement appointment - ie "wax rims" will need to be done, and a final viewing appointment so you can see the teeth you will receive at surgery. We do this to get rid of the fear of the unknown - you can relax going into the surgery knowing what your teeth will look like when you wake up.
The procedure is done in our office under IV Sedation. Once the procedure is complete, we will provide a temporary restoration to wear while the implants fuse with the bone over the course of four to six months. Once the area has properly healed, the patient will return to our office to begin making the final prosthesis that is reinforced with a milled titanium bar, that is then wrapped in acrylic.
Learn More During a Consultation
If you are fearing dentures, the All-on-4® procedure is a modern method for full arch tooth replacement. Schedule an appointment at Texas Denture Clinic and Implant Center today to find out if All-on-4® dental implants are right for you.